Briarfields Motel and Touring Park
Cheltenham, Gloucestershire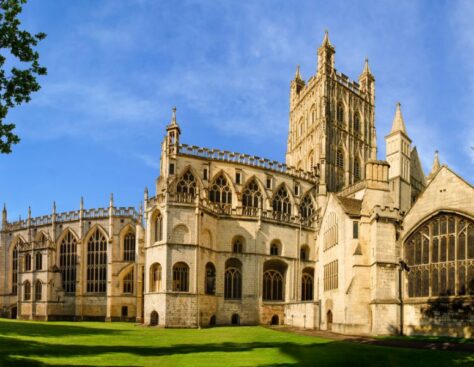 Briarfields is in a vibrant location just one mile from the M5 motorway. Public transport is excellent; buses every 15/30 mins, 24 hours a day to both Regency Cheltenham and Historic Gloucester.
A friendly park located in Regency Cheltenham – gateway to the Cotswolds; beautifully landscaped and exclusive for adults. Surrounded by mature hedges, shrubs and lawns, the park has a good selection of attractive trees to make it feel very rural, with lots of birdlife.
A truly fantastic bus service allows you to leave the motor onsite and hop on one of the regular buses into Cheltenham and Gloucester.
A brand new cycle and walking path is accessible directly from the park; its flat, well lit and approx. 3 miles into the centre of Cheltenham (the brand new cycle path from our park to Gloucester is underway but in the meantime please follow sustrans route 41).
The park is ideal for visiting Regency Cheltenham with its exclusive shopping boutiques. You'll be spoilt for choice on things to do; lots of museums to explore (Jet Age Museum, Holst Victorian Museum, Museum of Gloucester, National Waterways Museum, Soldiers of Gloucester, Folk of Gloucester, Nature in Art).
Cheltenham is fast becoming a festival town, abundance of restaurants from around the world including Michelin starred fine dining (Bhoomi Kitchen, Daffodil, Le Champignon Sauvage, East India Cafe, Lumiere, GL50, Prithvi, Purslane, Curry Corner); the Everyman Theatre offers a full programme of touring West End shows and in-house productions.
Gloucester is steeped in history; Greyfriars Priory, Eastgate Viewing Chamber, Blackfriars Priory and St Mary de Crypt Church to name a few. You'll find award-winning museums along with the wonderful Cathedral where Harry Potter was filmed, and its Quays outlet shopping centre.
Explore the beautiful quaint Cotswold villages (Bourton on-the Water, Stow on-the Wold, Broadway, Winchcombe) and experience the diversity of the Forest of Dean and Wye Valley.
Our Facilities
Briarfields Motel & Touring Park offers……..
Spotlessly Clean Modern Heated Washrooms
Grassy, Hard-Standing and Fully Serviced pitches
En-suite motel rooms (fully equipped) perfect for meeting up with non camping friends/family
Spacious Glamping pods (Buttercup, Daisy, Bluebell)
Free WiFi is available across the whole park; 10 amp electric hook up; fresh water taps located at regular intervals around the park along with chemical disposal points and ground level grey waste water disposals (including drive over grey waste for motorhomes).
Our heated washrooms are spotlessly clean and centrally located so you're never far away. Our washrooms are equipped with the usual high quality toilets, power showers, private washing cubicles, disabled shower room, hand dryers and hairdryer in the ladies.
The laundry room has the standard washing machine, tumble dryer, airier, ironing board and freezer. You will find a whole host of literature and lots of local leaflets and maps to plan your itinerary around the Cotswolds.
Nearby there's lots of amenities only a short stroll from the park. From the Redgrove Harvester, Asda Supermarket and Pets at Home to Home Bargains, KFC, B & Q, Benhall Fish & Chips, Chinese Takeaway and the National Hunt Pub.
Two caravan sales and spares dealership (Golden Castle Caravans and Pearman Briggs Caravans) are only two miles away, should your tourer require any attention during your stay with us.
Briarfields Motel & Touring Park is open all year round and is pet friendly. The park isn't large enough to have its own dog walk onsite but you will find lots of leaflets and information on gorgeous walks for your four legged friends from our site, leading you into the beautiful surrounding countryside.
Call into reception when you arrive at Briarfields for a warm and a friendly welcome and lots of local information. We've got leaflets and maps on the many things to do to make the most of your holiday with us.
Activities and Local Attractions
Visitors looking to stay with us should look to spend some of their time in the beautiful town of Regency Cheltenham. Enjoy a flutter at the racecourse, which is just four miles away, or liven it up at one of the many festivals Cheltenham has to offer (Jazz, Music, Science, Literature).
Catch the bus into town early and take in as much as possible! Enjoy a morning perusing the contemporary and historical craft, fine art and a full programme of events at Cheltenham Art Gallery and Museum. Then why not enjoy a bite to eat; Cheltenham overflows with food and drink from around the world including Michelin starred fine dining.
Enjoy a fabulous afternoon shopping in the many independent boutiques of Montpellier, offering a selection from designer clothing, couture to outdoor wear. Wandering along the wide leafy promenade has a distinctly continental feel giving a relaxed shopping experience. Bath Road and the well-lined High Street are also a must for shoppers.
Harry Potter and history fans will enjoy an hour or two at Gloucester Cathedral, used in many of the films (see if you recognise the Cloisters). The cathedral runs a varied programme of exhibitions and regularly works with local artists and communities to deliver high quality events. These include Three Choirs Festival, the oldest non competitive classical music festival in the world.
The Gloucester Docks and award-winning Waterways Museum are also a good afternoon out for heritage fans, while the avid shoppers can find plenty to occupy themselves at the waterside retail outlet shopping centre, Gloucester Quays.
Explore the Cotswolds
Enjoy a day trip out to this very special and wonderfully picturesque region – The Cotswolds. Defined by its rolling hills, or 'wolds', this glorious region offers a host of activities and attractions in all seasons!
Explore quaint villages of honey-coloured stone; take in splendid market towns and visit some of the country's greatest palaces and country houses. It's also the place to marvel at the natural world in acclaimed reserves and at some of the most famous arboreta's in Britain. Enjoy walks through breath-taking landscapes along historic trails; or make a splash in our own lake-land area.
The Forest of Dean is a geographical, historical and cultural region in the western part of Gloucestershire. Enjoy a relaxing journey on the Forest of Dean railway, 4.5 miles though beautiful woodland and countryside. With 5 stations along the way you'll have time to explore the local area, taking in woodland walks, country pubs or venturing down the Severn estuary.
No special offer. Contact park for latest news and offers subscription.
Proprietor: Scott & Jo Sanderson
Address: : Briarfields Motel & Touring Park, Gloucester Road (B4063), Cheltenham, Gloucestershire, GL51 0SS
---
Directions
You can click the map below for directions to Briarfields Motel and Touring Park.
Back to Our Parks